Whiteman Osterman & Hanna's Real Estate Development, Zoning and Land Use attorneys serve clients in a complete range of environmental matters from routine regulatory compliance to complex multi-media administrative enforcement and litigation.
The group advises clients on compliance with local, state and federal statutes and regulations relating to the development of real estate. Clients depend on us to review development proposals to determine what, if any, permits and approvals are required from or by government agencies.
The Firm regularly represents its clients before local planning and town boards, the New York State Department of Environmental Conservation ("NYSDEC"), the Environmental Protection Agency, the United States Army Corps of Engineers and other federal and state agencies.
The Firm also assists municipalities, public authorities and other government entities in acquiring property through condemnation and thus is familiar with the Eminent Domain Procedure Law. Much of the Firm's land use practice is devoted to assisting clients in complying with the State Environmental Quality Review Act ("SEQRA") and, where relevant, the National Environmental Policy Act ("NEPA").
Our attorneys in the Firm's real estate development, zoning and land use practice have a wide range of experience. They include a former Deputy Commissioner; two General Counsels and a former Assistant Commissioner of the NYSDEC, as well as others who have held local government zoning, planning and legal positions.
Over the past three decades, we have regularly assisted clients in both the private and public sector navigate the SEQRA process, as well as assist project sponsors in obtaining zoning approvals and state and federal wetland permits.
Among the areas in which Whiteman Osterman & Hanna's attorneys have helped clients are:
Development of land use legislation such as comprehensive plans, zoning laws, wetlands regulations and environmental review legislation.
Redevelopment of contaminated properties under state and federal brownfields programs.
Litigation involving environmental claims.
Represent energy companies before NYSDEC and United States Army Corps of Engineers in obtaining necessary permits and approvals for transmission projects in New York.
Establishment and expansion of sewer, water and other special districts.
Obtained wetlands and other environmental permits for regional commercial shopping centers throughout the State.
Representation in permitting and enforcement proceedings before local, state and federal agencies.
Review of projects for consistency with SEQRA and local laws.
Represent state agencies and authorities on SEQRA related aspects of several projects.
Redevelopment of former military bases and state facilities.
Siting and review of new power plants, including several alternative energy facilities such as wind and solar.
Distribution Centers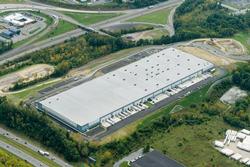 Several attorneys within our Real Estate, Zoning and Land Use practice have extensive experience serving distribution centers throughout New York State. To date, we have worked on projects totaling close to 7 million square feet. Our services include:
Obtaining all land use approvals necessary to construct, occupy and operate distribution centers;
Real Estate services related to purchasing vacant land or existing distribution centers, including due diligence reviews of right to build or occupy and environmental conditions; and
Negotiation of agreements for economic benefits from State, County and local entities for such projects.
Projects include:
Matrix - Newburgh, NY - 600,000 sf. Tenants: Amerisource and Amscan. The Firm handled all project approvals, real estate services and IDA benefits.
Matrix - Newburgh, NY - Currently working on securing all project approvals, handling all real estate services and possible IDA benefits for a 1 million sf e-commerce warehouse.
Matrix - Waywayanda, NY - Currently negotiating the purchase of a 250,000 sf pre-approved but unbuilt warehouse. Handling due diligence and any necessary amended project approvals and IDA benefits.
Bluewater Industrial Partners - Montgomery, NY - Currently working on securing all project approvals and possible IDA benefits for a 1 million sf warehouse.
Tractor Supply - Frankfort, NY - 1 million + sf distribution center.
Ferguson distribution center - Coxsackie, NY