Attorneys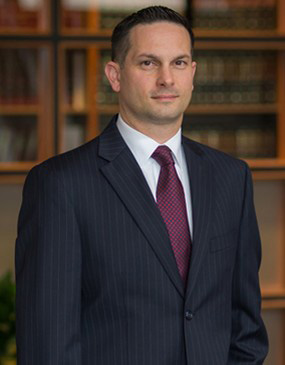 Attorney Biography
Leonard J. D'Arrigo
Partner
Attorney Biography
Leonard J. D'Arrigo
Partner
Leonard J. D'Arrigo ("L. J.") is a Partner in the Immigration Practice Group at Whiteman Osterman & Hanna where he assists in the daily management of the Immigration Practice Group, including management, training and development of staff. He specializes in corporate and professional immigration involving the full suite of employment-based immigrant (NIW, Outstanding Researcher, Extraordinary Ability, Multi-National Manager, PERM) and nonimmigrant petitions (H-1B, H-2, O-1, L-1, E, TN, J-1), as well as all family-based immigration processes.
Mr. D'Arrigo represents our region's top employers in securing employment-based visas and counseling employers on compliance issues. He assists a diverse group of U.S. and foreign employers, such as multi-national corporations, religious institutions, and universities to obtain temporary and permanent visas for skilled or professional foreign national employees, including international executives and managers, engineers, researchers, skilled craft workers, medical personnel, scientists and university professors, understanding the impact of immigration issues on corporate operations. Specifically, he has developed an expertise in assisting technology companies and research institutions in importing highly-skilled labor to fuel local growth in the technology and semiconductor industries.
Mr. D'Arrigo is also a recognized leader in the processing of H-2B and H-2A visas for agricultural and seasonal employers, including farms, landscape companies, and the thoroughbred racing industries. He provides guidance to these employers on DOL and USCIS compliance issues, and counsels other attorneys and organizations on H-2 compliance issues throughout the country.
Mr. D'Arrigo is a 2013 honoree of the Albany Business Review's 40 Under Forty Award. He was selected to receive this award by an advisory board out of 500 nominees. Mr. D'Arrigo has also received the Super Lawyers designation every year since 2014. He is a frequent speaker at Immigration/Employment related conferences and seminars including, the American Immigration Lawyers Association, Farm Bureau, Human Resource Association, and Continuing Legal Education programs throughout the country. He is also widely cited and quoted in the media on immigration issues affecting employers.
Affiliations
Mr. D'Arrigo currently serves as the Immediate Past Chair of the Upstate New York Chapter of the American Immigration Lawyers Association (AILA), the nation's leading Immigration bar association with more than 12,000 members. He is a member of the New York Bar and is admitted to practice before the United States District Court for the Northern District of New York. He is a member of the New York State and Albany County Bar Associations. Mr. D'Arrigo is a member of the Capital Region Human Resource Association (CRHRA), the New York Farm Bureau, and is a licensed real estate broker with membership in The New York State Association of Realtors, The Greater Capital Region Association of Realtors, and CIREB (Commercial and Industrial Real Estate Brokers, Inc.). Mr. D'Arrigo currently serves on the Board of Directors for The Legal Project, as well as past President of the Board of Directors for Catholic Charities – Hispanic Outreach Services.
Publications
Mr. D'Arrigo is the author of The School Yard Bully: U.S. Manipulation of International Trade Norms and Safeguard Measures, published in the New York State Bar Association's NY Business Law Journal, Vol. 9, No. 2 (Fall 2005).
Background/Education
Mr. D'Arrigo joined Whiteman Osterman & Hanna as an associate attorney in September 2005. He received his Juris Doctor from Albany Law School, where he served as the Managing Editor for Lead Articles for the Albany Law Environmental Outlook Journal. Upon graduation from law school, Mr. D'Arrigo received the Patrick B. McNamara Prize for the highest standing in labor/employment law. During law school, Mr. D'Arrigo worked as a law clerk at Whiteman Osterman & Hanna, focusing on immigration law. He received a Bachelor of Arts degree in Criminal Justice/Political Science from the University of Albany – SUNY.